Our Camping Safaris
Mobile Camping Safaris offer the greatest flexibility for positioning ourselves close to the seasonal concentrations of wildlife and for getting way off the beaten track for an authentic adventure.
Nature Discovery offers two types of camping accommodation to our safari guests:
Classic Camping Safaris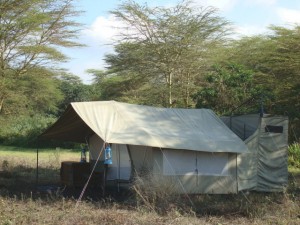 Our classic Camp can be set up inside or outside the National Parks. The sites are in the wilderness, have no facilities and we provide the sleeping tents with toilets and showers, a dining tent and the campfire – of course! The private sites inside the Game Parks (Tanzania's National Parks and Conservation Areas) are a more costly option than camping outside of the parks. Outside the parks there are a number of private campsites exclusively for our guests, and also a number of private bush campsites we have arranged. Our exclusive-use campsites are based just outside the game parks, and we have private bush campsites which dot the map from Longido (part of the Serengeti eco-system) to Lake Natron.
Although our Classic camp is not a luxury camp per se, the comfort of a walk-in tent with en suite toilet and shower set in such wild environs offers an exclusive experience that is a luxury.
Our camp crew sets up the camp prior to your arrival and breaks it down again after you depart – leaving no trace you were there. We provide our expert bush chefs to prepare and cook all the meals. We use specially designed eco-friendly kerosene powered ovens to bake fresh breads for the camp, and our guests will attest that our coooks can prepare gourmet meals despite their kitchen being in the wilds.
We also use eco-friendly water heaters for hot showers using just a few bio-briquettes (an alternative to charcoal made from coconut husk waste), then adding grasses and twigs as kindling. We feel strongly about running our camping safaris with concern for the environment – being part of the solution, instead of part of the problem.
The camping gear, equipment and tents are clean and modern. Low impact pick-up truck supply vehicles carry all the camp supplies, food, drinks and the camp crew.
Amenities include:
4m x 3m insect proof nylong classic style safari tent with fly sheet and 4m x 1.5m verandah
en suite portable flush-style toilet and bucket shower that is filled with hot water on request
lighting by solar charged L.E.D lights custom designed for our tents
twin safari beds with mattress, pillow and bedding provided
veranda with table and two chairs for relaxing and taking in the view
towels are also provided
Meals are taken in our dining tent, a specially designed structure made of canvas and mesh to let in the air and sights while keeping out any unwanted insects. we provide dining tables and chairs. Lighting is by candlelight.
Dome Tent Camping Safaris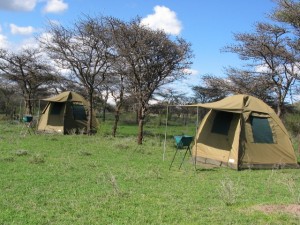 Our dome tent camp is a simple, no frills way to experience the wilds of Tanzania. It's a way to get off the beaten track and experience exclusivity – the camp is set up just for your group -  without breaking the bank.
As with our Classic Camp, we can set up our dome tent camp inside or outside of the Game Parks. We also have a number of exclusive-use campsites dotted throughout northern Tanzania.
We set up the camp and have it ready for your arrival. When you leave, we break it down and leave no trace of our stay. We provide all the meals, purchase all the groceries and supplies and send an expert bush chef along to prepare delicious meals for you.
As with the Classic Camp, we use eco-friendly kerosene powered ovens to bake fresh breads for the camp and specially designed water heaters that burn just a small amount of bio-briquettes instead of charcoal. The camping gear, equipment and tents is clean and modern, and easily fits into a low-impact pick-up truck. Guest participation is not required to set up the camp or perform tasks in camp, but anyone who wants to help is certainly welcome to do so.
Camp Amenities include:
2.3m x 2.3m insect proof dome ripstop tents with verandas
safari beds are provided, each with a foam mattress, pillow and sleeping bag and liner bag
lighting at night is by hurricane lamp
each tent has its own wash stand
towels are provided
a separate toilet tent and shower tent are provided – one of each per 7 campers
Our dining tent is specially designed to function well in any weather conditions – with removable panels to let in air and sights when the weather is pleasant and to shut out the elements if need be. We provide dining tables, comfortable light weight chairs and lighting at night is by candle. When possible, meals are taken al fresco.