International Mountain Day is celebrated annually on 11 December, and this year's theme is sustainable mountain tourism. Nature Discovery remains committed to making a positive social and environmental impact where we operate. Sustainable tourism on the mountain contributes to creating livelihoods for the communities living in the area, alleviating poverty, all the while ensuring landscape and biodiversity conservation.
In honour of International Mountain Day, here are a few interesting facts about the majestic Kilimanjaro:
Kilimanjaro is Africa's tallest peak and the world's tallest freestanding mountain. The summit is named Uhuru Point, is 5,895 meters (19,341 feet) above sea level.
As Africa's tallest mountain, Mount Kilimanjaro is one of the seven summits. Here are the seven summits in order from highest to lowest.

Asia: Everest (29,035'/8850m)
South America: Aconcagua (22,834'/6960m)
North America: Denali (20,310'/6,190m)
Africa: Kilimanjaro (19,340'/5895m)
Europe: Elbrus (18,513'/5642m)
Oceania: Carstensz Pyramid (16,023'/4884m)

Kilimanjaro is a stratovolcano, which means it is a very large volcano made of ash, lava, and rock and has three volcanic cones: Mawenzi, Shira and Kibo. Mawenzi and Shira are extinct but Kibo is dormant and could erupt again.
Almost every kind of ecological climate zone is found on the mountain: cultivation zone, rainforest zone, heather and moorland zone, alpine desert zone, and an arctic summit. It has been suggested that walking from the bottom of the mountain to the top is akin to walking from the equator to the North Pole.
The first ascent was over 120 years ago. Mount Kilimanjaro was first climbed in 1889 by German geologist Hans Meyer, an Austrian climber Ludwig Purtscheller and a local guide Yohani Kinyala Lauwo. Yohani's great-grandson now works as a head guide for Nature Discovery! The Marangu route closely follows his groundbreaking path up and down the mountain.
Meyer first attempted to summit in 1887 but had to turn around at the base of Kibo as he encountered thick snow and ice walls. His second attempt in 1888 was also unsuccessful because he was captured and held as a prisoner by locals as part of the Abushiri Revolt. He was later freed after a ransom was paid.
Kilimanjaro has been tackled at a pace that will amaze you. The current record holder is Karl Egloff, a Swiss ultra-marathon runner and all-round tough man, who in August 2014 ran the Umbwe route and reached the summit in 4 hours and 56 minutes. He turned around and descended the mountain in less than 2 hours making a total time of 6 hours 42 minutes – the average day's hiking time from one camp to another for the rest of us!
The record for fastest unaided ascent (meaning that the climber carried his own food, water and clothing) is held by Tanzanian Simon Mtuy, who climbed to the summit and back in 9 hours 19 minutes in 2006.
The oldest person to successfully climb Kilimanjaro is 89 year old American woman Anne Lorimor. She took the world record in 2019 from Dr. Fred Distelhorst, who was 88 when he summited.
The youngest person to climb Kilimanjaro is American Coaltan Tanner, who summited at the age of six in 2018. However, the minimum age for climbing Kili is now 10 years old.
The glaciers on Kilimanjaro are estimated to be around 11,700 years old, but the Mountain's snowcaps are declining, having lost more than 80 per cent of their mass since 1912. In fact, scientists estimate that they may be completely ice-free by the year 2030.
Climb Kilimanjaro with Nature Discovery!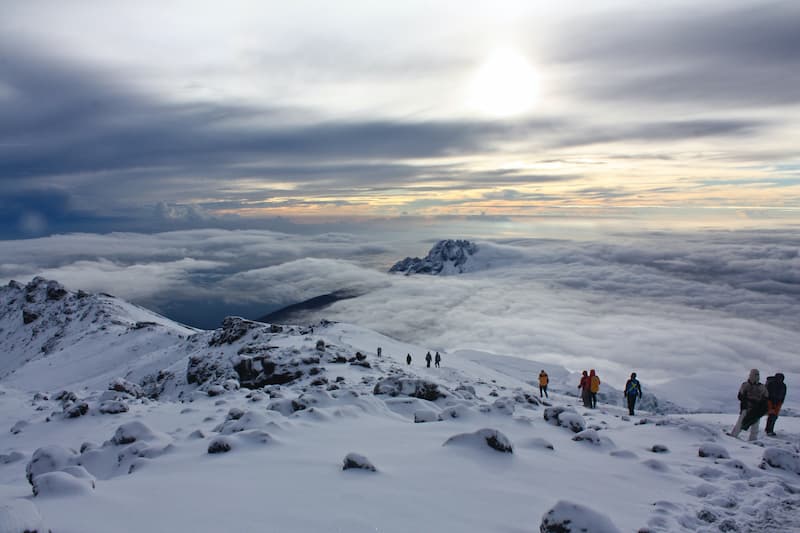 If climbing Mt. Kilimanjaro is on your bucket list and you want to have the best trekking experience, book with Nature Discovery today.  As Kilimanjaro specialists with 3 decades of experience, we have devoted endless time and energy into making our climbs the most organized, responsible, and professional.
Contact Nature Discovery now to find out more about treks and availability.