Our Guides And Climbing Crew Are Seasoned Pros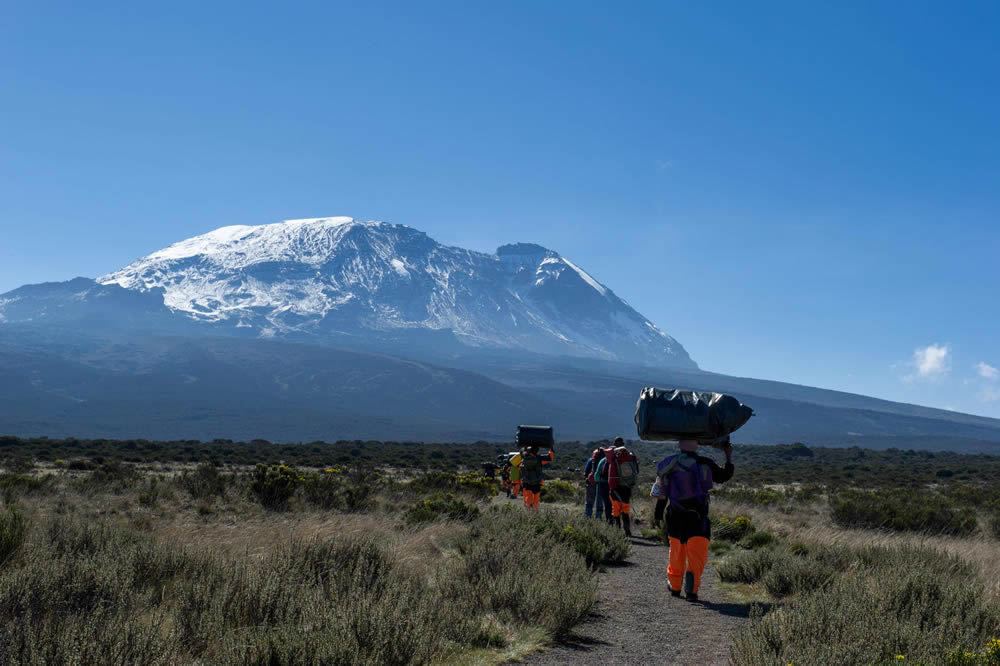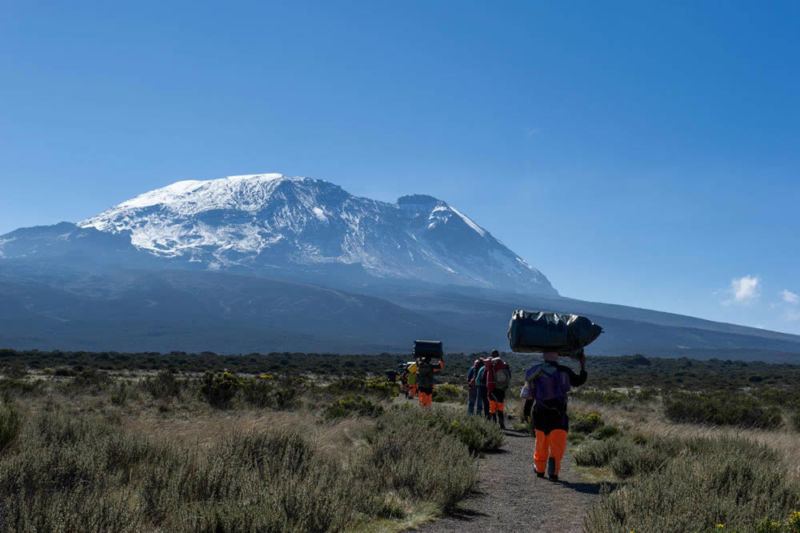 Nature Discovery hand pick their mountain guides and climbing crews to ensure we have the most capable and professional crews on the mountain. Our entire guide team are certified Wilderness First Responders (WFR) recognized by park management and other tour operators. All of our guides have had formal training in guiding at one of many recognized colleges in Tanzania.
Most of our guides have worked their way up the ranks from porters to waiters, and eventually after getting qualified, they become guides. At college, they study subjects like physical and natural resources, mountain ecology, biological resources, guiding skills and techniques, communication skills and customer care.

Nature Discovery employs over 40 WFR certified guides, and the management team are also WFR trained and certified. Guides are recertified every 2 years to refresh their skills and to keep abreast of any changes in the medical field. This training enables the students to assess illnesses and injuries, evaluate the physical, psychological and organizational complexities of any situation, and perform the correct treatment and maintenance in almost every medical situation. Guides also know when and how to evacuate a client by stretcher or by helicopter if an emergency arises.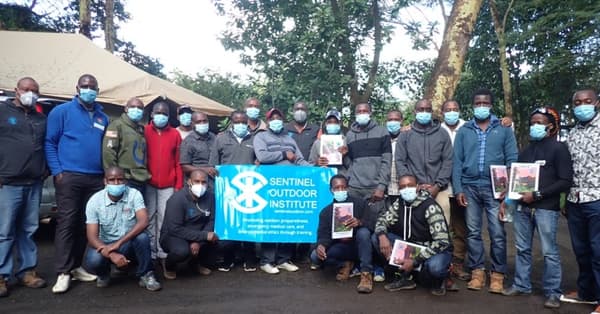 WFR Certification
We supply an average ratio of one guide for every two climbers, which is often more than other mountain climbing outfits.
Specialized mountain crew members who join every trek:
Wilderness First Responder Certified Mountain Guides – All of our mountain guides hold current certification from the Sentinel Outdoor Institute and are re-certified every two years.
Western-Breach Route Mountaineering Guides – These guides are specially trained by a mountaineering expert on setting hand-lines with reliable anchors, route safety, rock-fall protocol, and ice axe use for cutting steps and self-arrest.
Meet the Nature Discovery Team!
Nature Discovery handpicks their mountain crews to ensure we have the most capable and professional crews on the mountain. Most of our guides have worked their way up the ranks from porters to waiters, and eventually become guides after attaining their qualifications.
Our team are seasoned professionals, highly experienced and super knowledgeable about the flora and fauna.
Polite Mboma
Polite Mboma is one of our highly experienced and certified Kilimanjaro Guides, and has climbed the mountain more than 180 times. Most of his guests praise him for his high level of kindness and charm, and he ensures them that safety is what comes first before anything else.
Born and raised in Arusha, Polite began climbing Mt. Kilimanjaro as a porter in 2007, and after a few years moved up to assistant guide due to his vast knowledge about the mountain, work ethic, and enthusiasm. Polite previously worked as a safari guide and says that guiding on safari and now Kilimanjaro has given him a vast knowledge of the flora and fauna in Tanzania.
In 2017, he was among the finalists for the guide of the year awards, held by the Tanzanian Tourist Board and the Kilimanjaro Guides Association.
Sam Makala
Sam is a Tanzanian of the Nyiramba tribe from Singida in central Tanzania. He was born and educated in Arusha He began working as a mountain porter in 1995 and then for KINAPA in the rescue department from 1998 to 2002.
Sam attended mountain guide training conducted by KINAPA and started working as a head guide for different companies. In 2014 he joined Nature Discovery to work as an assistant guide and in 2017 he was promoted to head guide. Sam has been to the Summit of Mt Kilimanjaro more than 130 times.
Msafiri Munna (MC)
Msafiri was born in Katesh in the Manyara region in Tanzania. He is of the Nyaturu tribe and his name means 'the traveller.' Msafiri began his career in tourism with us in 1998 as a mountain porter, but quickly rose through the ranks as Assistant Mountain Guide and later Head Guide. He is trained as a Rope Guide for leading trips up the Western Breach.
Msafiri enjoys the challenge of leading our expeditions and sharing experiences of hiking and climbing with our guests. He has reached the summit of Kilimanjaro over 250 times. He is a frequent climber of other mountains in Tanzania, such as Mt. Meru, Mt. Hanang, and Ol Donyo Lengai. MC has been on top of Aconcagua in Mendoza Argentina, which is the highest peak in South America and the highest peak out of Himalaya on his way to climbing seven summits.
Pendaeli Martin Lauwo
Pendaeli, known as 'Penda", is of the Chagga tribe from the foothills of Mt. Kilimanjaro, and was born in Moshi. Penda has big shoes to fill as his grandfather, Johana Lauwo, was part of the geological expedition in 1889 that reached the summit of Mt. Kilimanjaro for the very first time.
Penda started working for Nature Discovery in 2002 as a porter. After his guide training he began working as an assistant guide. He is currently a head guide and is known for his vast knowledge and experience. Penda has reached the summit a staggering 196 times.
Respicius Baitwa
Respicius Baitwa has been working as a Kilimanjaro mountain guide since 1997 and has led more than 3,500 trekkers to the 'Roof of Africa' in his over 400 times summiting the mountain.
Respicius is attempting to be the first Tanzanian to climb all 'seven summits' (seven highest peaks on every continent), and to date he has climbed five of them including Kilimanjaro in Africa, Elbrus in Europe, Aconcagua in South America, Kosciuszko in Australia and Denali in North America.
Abel Beimoja
Abel was born in Arusha and is an experienced mountain and safari guide, and has summited Kilimanjaro over 150 times. He is often been told that he 'stands tall and as fit as a fiddle.' Abel's linguistic ability is outstanding and he is fluent in French, Swahili, and English, and often leads our French groups up the mountain.
Abel is a born leader and takes great pride in his position as Head Guide. His crew on the mountain respect and admire him as their leader. "Climbing has always been in my blood and whenever I see mountains a sense of peace overcomes me," says Abel, "summiting a mountain is always my main objective."
William Bwenje
William was born in Dar es Salaam and is of the Nguni tribe from Songea in southern Tanzania near the border of Mozambique.
William's natural leadership abilities and language skills made him a head guide in 2003 with another company, but then he came to join us in 2005 as an assistant guide. He was promoted in 2012 to Head Guide and he has climbed the mountain almost 200 times. He is known for his smile and sense of humour.
Alex John
Alex was born and raised in the Arusha region and is part of the Maasai tribe. Over the past 15 years Alex has summited Kilimanjaro more than 350 times with around 2200 clients. Alex is the current President of the Kilimanjaro Guides Association and dedicates most of his time ensuring a better life for his fellow mountain guides.
Alex has experience in leading large groups of up to 30 people up the mountain, and with his knowledge and years of experience, he encourages all the climbers to achieve their goal.
Bernard Shirima
Bernard was born in Marangu Village and is from the Chagga tribe. Bernard joined Nature Discover in 1997 as an assistant guide and become Head Guide in 1998. As a head guide he has climbed the mountain over 250 times.
Bernard is known and respected on the mountain as a great leader. His scrupulous attention to detail and professional attitude instils in each of our climbers the greatest confidence. He is 100% dedicated to his climbers and his crew, and tirelessly works to pursue perfection
Edward Seth Mollel
Edward was born in Saitabau Village and is from the Maasai tribe. Edward began his career in tourism with us in 2002 and became a guide in 2006. Edward's quiet confidence and positive demeanour is a huge help to our climbers trying to reach Africa's highest peak. He has reached the summit of Kilimanjaro over 150 times.
Edward's favourite bird is the White-Necked Raven. They are completely black except for the beautiful white feathers around their neck. They are very intelligent birds and as Edward says "I have to warn clients to be careful with their cameras and other items as ravens have been known to take things when you're not watching."
Gabriel Rassy
Gabriel was born in Arusha and is part of the Maasai Tribe. Gabriel began to work as a porter and became an Assistant Guide in 2003. Gabriel has reached the summit of Kilimanjaro more than 200 times. He is always there to ensure that the clients are fully experiencing the mountain wilderness and he enjoys sharing his knowledge about local flora and fauna on the mountain.
Gabriel considers himself a perpetual student, always learning from his clients and his peers. Gabriel's confidence has helped many groups to reach the summit and some of them said, "we wouldn't be able to do it without him".
Godlove Kiwelu
Godlove was born in Moshi Town and is from the Chagga tribe. Godlove's first work experience was as a mountain porter in 2001. In 2002 his language and leadership skills earned him a shot to become a mountain guide. He trained and was certified as a mountain guide, and in 2009, after an extensive period of education in the USA, he became a head guide. He has climbed the mountain over 100 times.
Godlove is a thoughtful, intelligent and kind presence on the mountain with our climbers, and he enjoys the personal interaction and sharing stories and conversation about the culture of hiking and mountains.
James Upanga
James was born in Mtwara and is from the Makonde tribe. James began with Nature Discover as a porter and worked himself into a position of personal porter, to assistant guide, and head guide. James' intelligence, team-oriented attitude, and can-do personality make him a dedicated and intuitive guide.
James has a passion for travelling, and the outdoors and he considers himself a 'student of the wilderness' and is always on the quest to learn more about botany, geology, and wildlife. He is a guide who is dedicated and intuitive. With James, our trekkers are in the best of hands!
WHAT'S IT REALLY LIKE TO CLIMB KILIMANJARO?
READ OUR BLOG SERIES
KILIMANJARO TREK DIARY
Join our Chief Project Manager at Nature Discovery as he Attempts to Summit Kilimanjaro with a Small Group of Guests.
Our Partners in Sustainable Tourism