A safari vehicle in Tanzania needs to be tough enough to get off the beaten track and deep into the African wilderness, safely and reliably. It needs to be rugged but comfortable, and most of all; it needs to be well-maintained. Your vehicle can make or break your trip. You don't want to be limited by a vehicle that can't take you to the best places for viewing wildlife, nor do you want to lose valuable time on a safari due to breakdowns. Nature Discovery has thought about these things, and we've got you covered.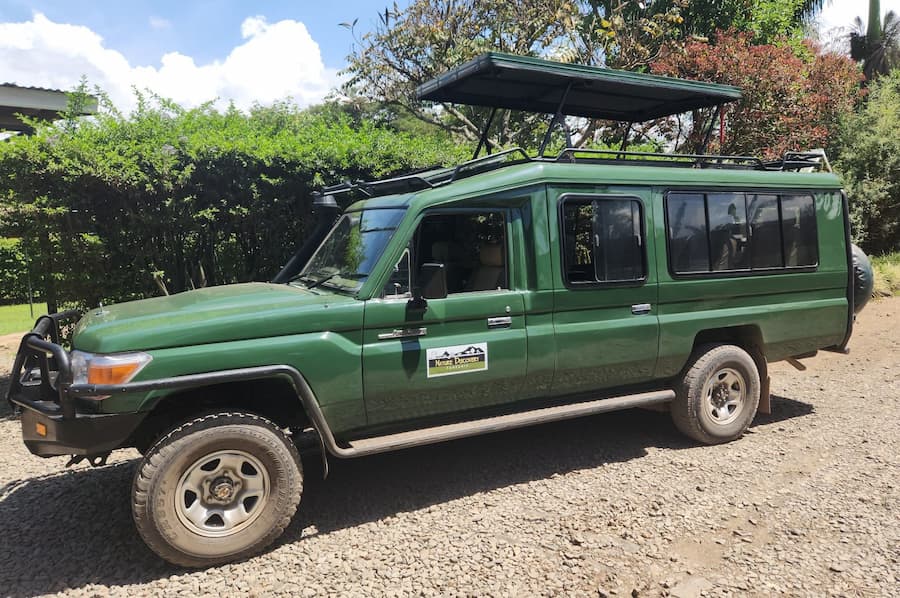 We have a fleet of Toyota Land Cruisers, the toughest vehicles in the African bush. We professionally customize our vehicles and maintain them in our own workshop in Arusha. They are modern, clean, and in perfect working order. Some of our safari vehicles have a longer wheelbase, offering a seating capacity of seven window seats, while some have five window seats.
Each vehicle is equipped with the following:
Seat belts for each passenger
A pop-up roof hatch on hydraulic suspension gives access to each passenger allowing you to stand up and get an unimpeded view of the wildlife while in the parks.
There is also a roof hatch over the front 2 seats for those sitting up front with the driver.
A Fridge for your own drinks and snacks is at the back of each vehicle and we keep drinking water for your use ice cold as well.
We provide unlimited safe drinking water for your whole safari.t remember to bring your own water bottle as we are a plastic-free company.
We provide 220/240V power outlets at the front and back of each vehicle for charging camera batteries and mobile phones. These use the UK-type plugs as well as USB connectors.
Wooden compartment accents and seat pockets at the back of each seat are for holding all your safari essentials like binoculars, cameras, reference books, bean bags, drinks, and snacks.
Sturdy adjustable padded armrests and cotton-canvas seat covers keep you comfortable on those bumpy roads through the bush. Ask for extra cushions if you need them.
All our drivers carry books and field guides on mammals, birds, and trees, to help you research and identify the wonders of the bush in every location.
A VHF radio used by the driver-guide to communicate in case of an emergency, or to get news regarding a particularly interesting game-viewing spot
Safe drivers! Our record of safety is impeccable, and we hold our drivers to the highest standards for safe vehicle operation and sustainable protocols to ensure that we're walking our talk.
Contact us today and let us start planning your Tanzanian adventure.