Safari Vehicles
A safari vehicle in Tanzania needs to be tough enough to get off the beaten track and deep into the African wilderness, safely and reliably. It needs to be rugged but comfortable, and most of all; it needs to be well-maintained.
We have a fleet of  Toyota Land Cruisers, arguably the toughest vehicles in the bush. We professionally maintain them in our own workshop. They are modern, clean, and in perfect working order. Some of our safari vehicles have a longer wheel base  offering a seating capacity of seven window seats, while some have five window seats.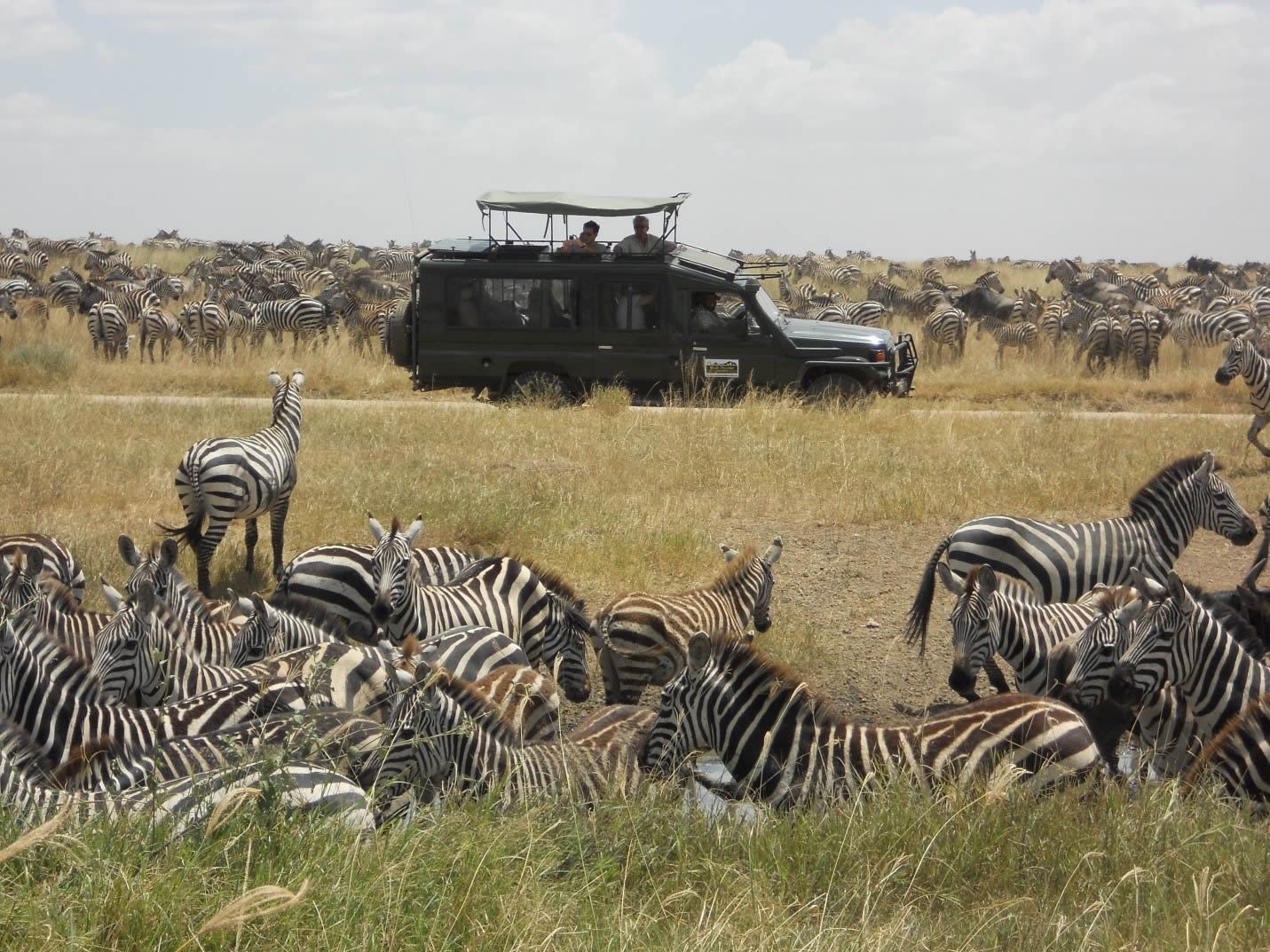 A long-wheel base Land Cruiser, stuck in a zebra-jam in central Serengeti!
Each vehicle is equipped with a VHF radio, a 220V invertor for using and charging electronics, seat belts and roof hatch access for each person, and an optional sun shade, which can be quickly set up or be taken down, covering all the bases and allowing the best options for game viewing. Most safari vehicles in Tanzania have pop-up roofs which do not allow the best game viewing perspectives, as they cannot be removed! It's a big advantage to have removeable roof-hatches with the optional sunshade.
After your safari guide and your itinerary design, your safari vehicle can make or break your trip. You don't want to be limited by a vehicle that can't take you to the best places for viewing wildlife, nor do you want to lose valuable time on a safari due to breakdowns. These are things you don't have be concerned about when you book a safari with Nature Discovery.
Contact us today and let us start planning your African adventure.
Mountaineering, Trekking, Camping and Lodge Safaris
in Tanzania's Wild Places since 1991