We Provide the Safest Kilimanjaro Experience
On the mountain, our climbers are often far from hospitals, and thus it's essential to have professional safety and wilderness first aid knowledge and experience at hand. Our safety protocols are based on the 'Wilderness First Responder' (WFR) standards for emergency wilderness care. Our comprehensive approach to mountain safety includes systems that combine professionally trained and certified guides PLUS modern safety equipment to proactively prevent disease and injury, and respond to all types of emergency situations with the highest level of training and care available.  We have been trained and certified as WFR by a number of organizations, including WMI/NOLS, WMA, Aerie Backcountry Medicine, and Sentinel Outdoor Institute (SOI). We are currently certified by SOI. See: sentineloutdoorinstitute.com for details.
We provide more safety gear than any other outfitter on Kilimanjaro. We're the only ones providing a hyperbaric chamber on every trek, and the only company supplying a fully rigid litter. We supply more emergency oxygen than any other outfitter, and have more AED devices than any institution (public or private) anywhere in Tanzania! On just about every item, we exceed all others in the provision of safety gear, communication devices and levels of emergency response. Every trek is guided by a guide team 100% comprised of WFR certified guides. This ensures that our entire guiding team is on the same page – trained and certified at the highest level, and there are no 'weak links'.
Nature Discovery takes the safety of our guests and guides seriously and has more safety equipment than any other outfitter. We:
Supply more emergency oxygen than any other guide or tour operator;
Own more Automated External Defibrillator (AED) devices than any institution, either public or private, anywhere in Tanzania;
Exceed all other tour companies in the provision of safety equipment and communication devices to our guests and guides;
Offer higher levels of emergency response;
Provide only Wilderness First Responder certified guides so our entire guiding team is trained and certified to the highest level.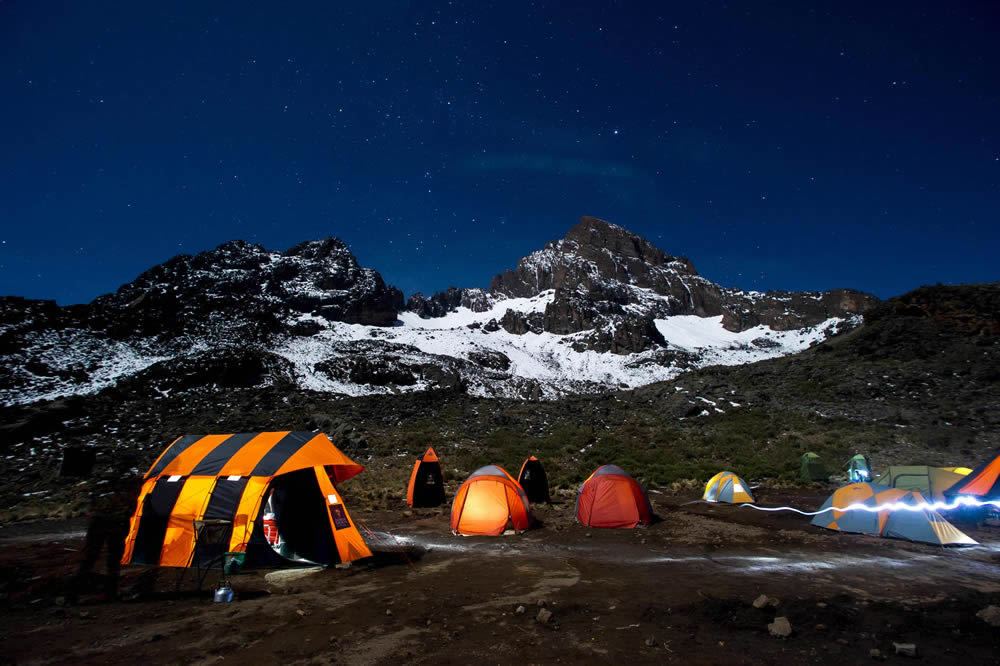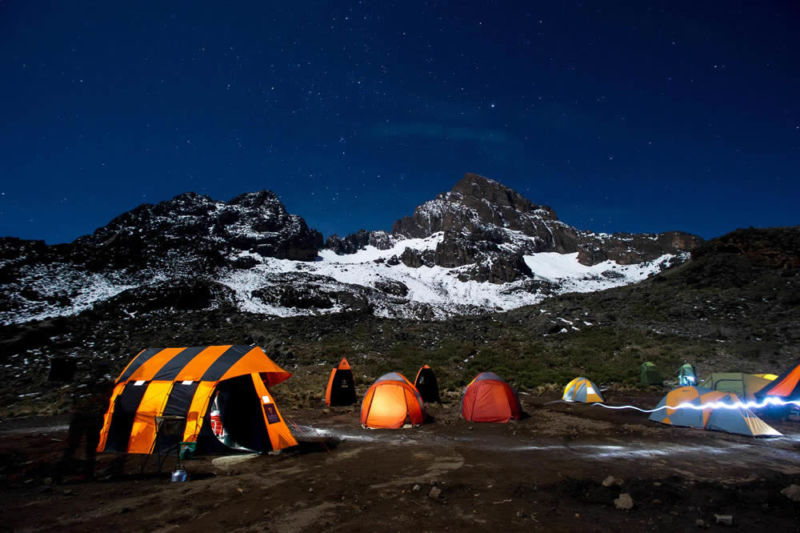 We supply every trek with:
Hyperbaric Chambers – A portable altitude chamber for emergency use in the case of severe altitude sickness.
AED devices – Automated External Defibrillators for the treatment of Sudden Cardiac Arrest. (standard on treks that include Crater Camp, optional on other treks)
Oxygen – For emergency use. For groups of two to six people, we supply two oxygen kits including two 360 litre medical oxygen bottles, each with a regulator and two nasal cannula masks. For seven or more climbers, we provide three full oxygen kits, ensuring that every trekker has easy access to emergency oxygen.
Stretchers – A fully rigid steel-framed litter stretcher to transport injured patients as safely and comfortably as possible.
First-aid, Trauma and Medicine Kits – Fully stocked as per Wilderness First Responder guidelines and including medicine instructions. Two first-aid kits are carried for groups of nine or more.
Pulse-oximeter – To measure heart rate, blood oxygen levels and rapidly detect changes in blood oxygen level. The Head Guide checks, evaluates and documents blood oxygen levels and heart rate for each climber daily at dinner time.
VHF Handheld Radios – Three VHF radios are carried on each trek, for quick communications between the Head Guide, Assistant Guides at the back and front of the group, and the Camp Manager. Extra batteries are carried for each radio.
Mobile Phones – Carried by all guides for daily communications with our base in Arusha.
Satellite Phone – Carried at all times by the Head Guide, for use in emergencies or in areas with limited or no mobile network. Extra batteries are carried for each satellite phone allowing us immediate and constant communication in emergency situations.
Safety Equipment Porters – The First Medical Equipment Porter stays with the group at all times, to ensure safety gear is always on hand. A Second (and third) Safety Equipment Porter accompanies larger groups, allowing us to split oxygen and other extra emergency supplies.
Safety Briefing – A full safety briefing is given by the Head Guide before each trek, covering expectations, risks, safety gear and preventative safety.
Climbing Helmets – Provided for all climbers and staff on Western Breach.
Western-Breach Route specific guides are trained by an expert on mountaineering techniques, including the setting of handlines, route safety training, rockfall protocol training, and use of ice axes for cutting steps and self-arrest.
Climbing rope – The Head Guide uses 50M x 10mm dynamic climbing ropes to set hand lines on Western Breach.
Ice axes – Carried by all guides to cut snow steps on Western Breach.
WHAT'S IT REALLY LIKE TO CLIMB KILIMANJARO?
READ OUR BLOG SERIES
KILIMANJARO TREK DIARY
Join our General Manager at Nature Discovery as he Attempts to Summit Kilimanjaro with a Small Group of Guests.