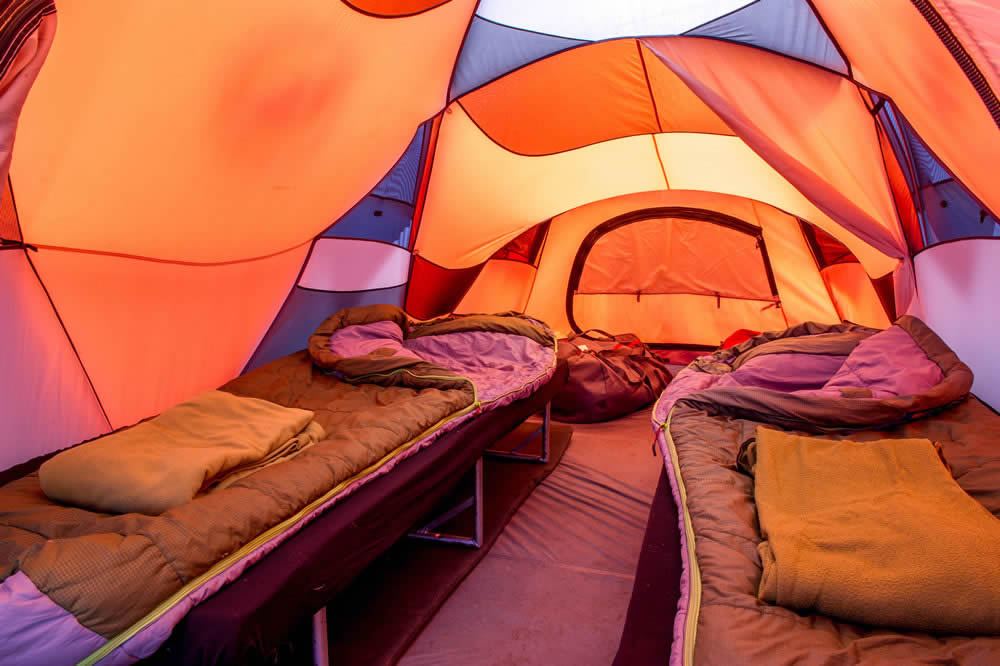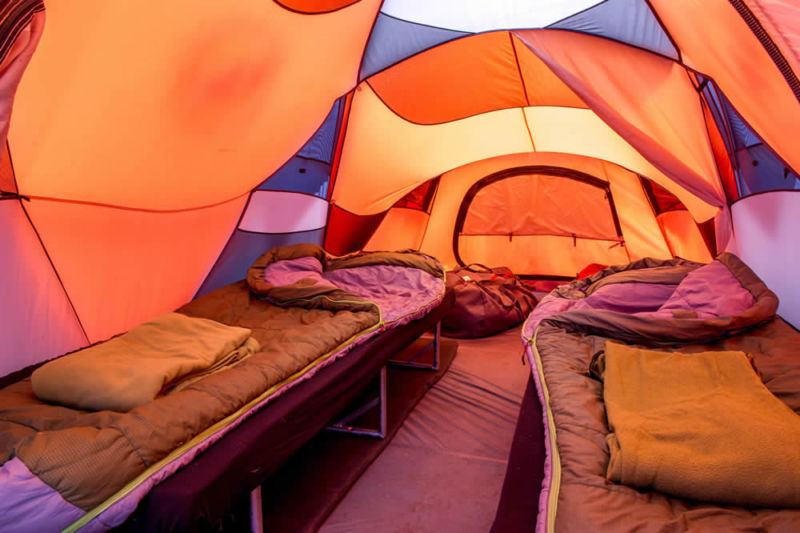 After 30 years leading climbs and treks on Kilimanjaro, we've listened to guest feedback, pursued our passion for innovation and found the ultimate combination of form and functionality for our camping equipment. It's a unique set up that's both practical and attractive, making our camp sites easily recognizable anywhere on the mountain.
Designed to suit the terrain
Our camping equipment is a combination of high-end mountain gear from reputable suppliers and equipment we've designed and made ourselves to suit the terrain. For example, we found that most traditional round dining tents didn't fit the long, narrow tent sites so we now have our own custom-built dining tents built. We have a full-time team of tent-tailors and metal craftsmen at our base facility in Arusha.
Designed for comfort
Our closed-cell foam pads cover the entire sleeping tent footprint and we're the only company that uses them. It's just one of the special touches our guests appreciate because they can always get a good night's sleep, even in cold, wet weather.
Optional upgrades
We also offer a number of optional 'comfort' upgrades including:
Large walk-in sleeping tents with framed beds;
Hot-showers;
Heaters in the dining tent;
And even a heated lounge tent with comfy inflatable chairs!
Camping gear supplied on climbs and treks:
Mountain Hardwear Trango 3.1 Sleeping Tents – We use three-person tents as a double or single tent (supplementary charges apply for singles).
Custom-made ground sheets – Separate ground sheets cover both vestibules in our sleeping tents to keep the sleeping area free of water, mud and dust and allow clean, dry gear storage of gear.
Full tent floor cover closed cell sleeping mats – Our closed cell foam sleeping mats cover the entire floor of the sleeping tent so our climbers and all their gear stays dry
Weatherproof dining tents – Our large, custom-designed and made, weatherproof dining tents have fly sheets, multiple doors (including a custom-designed hinged tent door, windows, ventilation, and full floors with storm skirts and ropes.
Solar LED lights – We use high-powered solar LED lights in the dining tent so our guests can enjoy headlamp-free meals! Each tent has a number of powerful LED lights.
Aluminium dining tables – Covered with Maasai-style tablecloths.
Large aluminium dining chairs – With backs and armrests. (or smaller backed chairs, depending on the service level)
Large private toilet tents with portable flush toilets (depending on the service level), These are erected on a stable frame and each toilet has hand-sanitizer available in a handy push-top dispenser. For groups of seven or more climbers, two toilet tents are provided.
Pett toilets – In campsites without toilet facilities such as the Crater Camp, we use a special toilet made by Phillips Environmental which uses an absorbent powder and allows us to carry all solid human waste out of the campsite. This enables us to adhere strictly to the 'Leave No Trace' outdoor ethics.
Wash stands – For washing hands before meals.
Fresh hand-towels – Provided for each climber, before each meal
Wash basins – Provided for each trekker on reaching camp.
Hot water bottles – To keep you toasty warm in your sleeping bag.
Safe drinking water – We purify all guest and staff drinking water using PUR packets.
Optional extras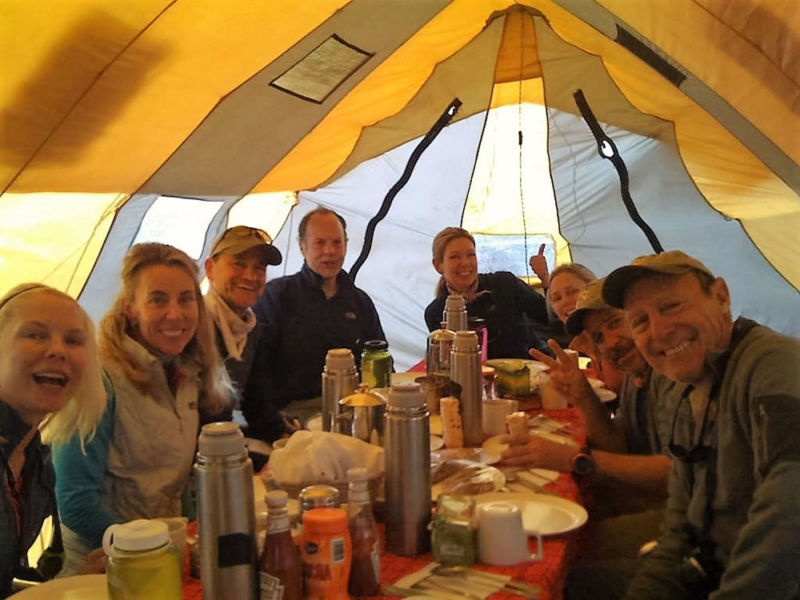 In addition to the camping gear listed above, which are taken on all climbs and treks, many camping extras are available on request for an additional charge.
High-quality rental gear – Including trekking clothing, synthetic sleeping bags, Gore-Tex outerwear, warm layers, trekking poles and just about anything else you might need. Read more >>
Luxury sleeping tents – 'Walk in' tents with aluminium frame beds and soft foam mattresses allowing trekkers to sleep off the ground. The tent is lit by powerful solar LED lights and features four entrances, ventilation ports, a fly sheet, storm skirt, storm ropes and closed cell mats to keep bags clean and dry.
Hot showers – Set up in a spacious rectangular-framed tent with a 15-liter solar shower bag perched on top. Includes a shower mat, plenty of clothes hooks and bath towels.
Dining tent heater – Propane space heaters to warm the dining tent before and during evening meals.
Heated lounge tent – For the ultimate in comfort while climbing Africa's tallest mountain book our heated lounge tent with solar lights, inflatable furniture and a large table for socialising or playing card games.
Solar charging kit – Including a solar panel, 12V DC/7 AH /20-hour battery and USB sockets for charging up to two USB devices simultaneously while in camp. Ideal for charging cell phones, satellite phones, iPods, tablets and other small devices.
No Frills Camping Options
Want the best guides and safest climbing experience but don't mind roughing it a little? We also offer Lite and Hut treks with less camping gear for those who don't need all the frills. It's a less expensive option but you still enjoy having the best guides, great food and rigorous safety standards.
Please contact us now for more details or prices.
WHAT'S IT REALLY LIKE TO CLIMB KILIMANJARO?
READ OUR BLOG SERIES
KILIMANJARO TREK DIARY
Join our General Manager at Nature Discovery as he Attempts to Summit Kilimanjaro with a Small Group of Guests.