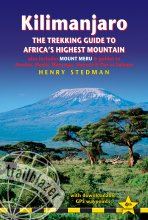 Author of Kilimanjaro: The Trekking Guide to Africa's Highest Mountain recommends Nature Discovery.
"It's great to be acknowledged as a leader on Kilimanjaro by someone with as much knowledge and experience as Henry Stedman," says Thomas Holden, General Manager of Nature Discovery.  "He can appreciate the difference it makes that we are committed to the ethical treatment of porters, to professional standards of health and safety for clients and staff alike, and that we take our environmental responsibility seriously. Not only do our trekkers have a better climbing experience, but we are helping to safeguard the future of the mountain itself."
Henry wrote the first edition of the Guide in 2001 and his book is now in its 4th edition. It is an excellent resource for anyone contemplating a climb to Africa's highest peak.