Join Gary, General Manager at Nature Discovery, as he attempts to summit as part of one of our Kilimanjaro Group Treks. Today, our intrepid explorers enjoy amazing views of Kenya and Amboseli National Park, trekking 11km for a total of 8 hours to Pofu camp.
Today is the coldest morning so far, so we layer up and get going. The trail is a gentle uphill crossing frozen streams and icy rocks for almost an hour and a half before our first break at the top of the hill. We get excited when the sun comes over the ridge, but it hardly helps against the chill. There are lots of ups and downs and it stayed pretty chilly most of the day. Three layers on top with a beanie and glove inners keep us toasty, as long as we keep moving.
As we are on the Northern side of Kili we have amazing views of Kenya and Amboseli National Park, although it is a little hazy. It's lush and green down there and we can see some houses. We stop for a lunch of spaghetti and a delicious marinara sauce with warm garlic bread and a salad.
The Northern circuit is known to have more wildlife and we saw a lot of buffalo spoor. They go up to the higher ground in search of minerals that are in short supply lower down. Although we all search, we cannot spot any. This area is also known for Klipspringer, eland and even leopard spoor has been seen and sometimes even the call of a lion at night.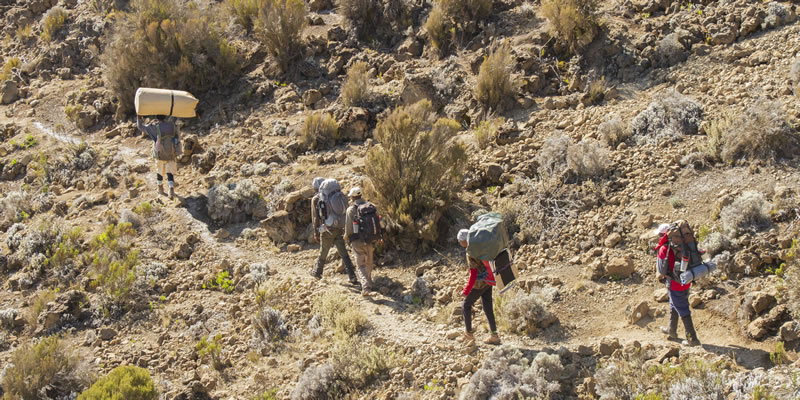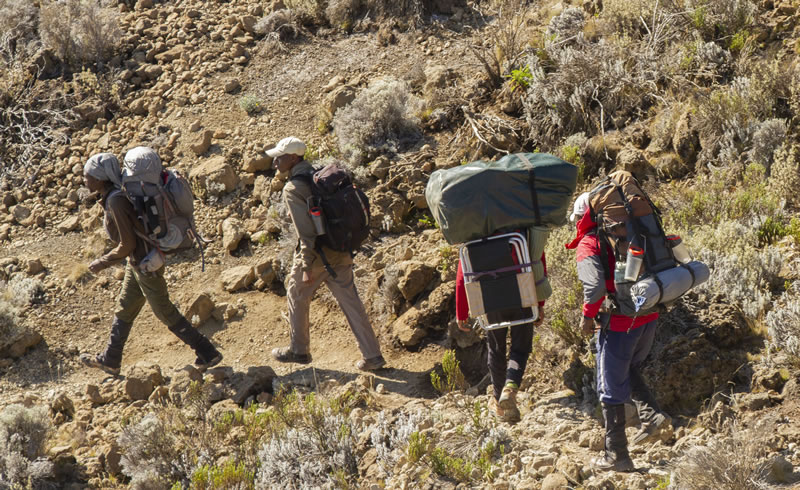 We continue trekking up and down more valleys and suddenly we could see the camp in the distance. We trek for 11km today in a total of 8 hours. As this route is not as well-known as the Southern routes, we encounter no other trekkers on the day and now we even have the camp to ourselves. This is one of the reasons why it is so popular with Nature Discovery and our partners. Altitude is 3800m so slightly lower than the previous night, helping us even more with acclimatisation.
The luxury tent is an addition to any Superior trek for either single climbers or a couple. The tent is much higher so you can almost stand upright inside, with a large section at the back for luggage, and a large entrance vestibule. The tent is wider, and we include solar lanterns, aluminium stretchers, foam mattresses, sleeping bags and even pillows to make your Kili trip a lot more comfortable.
Water is vital for everyone and on Kili there are no water tanks where we can just fill up whenever we need. Different porters are selected each day to walk miles to the nearest stream with 20L containers to fill up enough for drinking, cooking and washing. On their return to camp the water is treated with a product called Waterguard. Once the water has been treated, the purified water is filtered and poured into special pails solely used for serving our climbers their purified water which we top up at mealtimes.
One of the most important people on the trek is the man who has the worst job, but the biggest smile. The Pilot, as he likes to be called, is our toilet attendant and is always jovial and talkative. All the staff think he's great and we asked how he felt being on the mountain.
The weather started coming in and we were in a white-out. With no views, we get cosy in the dining tent with warm homemade ginger tea and peanut butter cookies. Personally, I would have enjoyed a whisky, but alcohol is not recommended at altitude, and is frowned upon by the park's authorities, guides and fellow climbers.
Stay tuned for the next blog in this series to find out what happens next!