Nature Discovery offers three gear and service options for climbers who want to attempt Mount Kilimanjaro. These options include Superior, Lite, and Hut. The majority of our treks are run in the 'Superior' option, but we also offer a slightly simpler and less expensive option, called 'Lite'. We also offer a "Hut" option on the Marangu route where accommodation is in huts and not tents.
Our 'Superior' option is what separates us from other outfitters and some items are unique and exclusively provided by us. This lets us claim to be the leader in professional and sustainable treks on Kilimanjaro.
All of our camping equipment is designed to suit the terrain and is designed for comfort as any little bit is worth it at the end of a hard day.
However, if you want a luxurious experience, we offer optional luxury gear to upgrade your comfort levels for your trek.
Luxury Sleeping Tents
 'Walk-in' tents with aluminium frame beds and soft foam mattresses allow trekkers to sleep off the ground. The tent is lit by solar LED lights and features four entrances, ventilation ports, a fly sheet, storm skirt, storm ropes and closed cell mats to keep bags clean and dry. Warm sleeping bags, a sleeping bag liner, and a comfortable pillow custom designed to fit inside the sleeping bag.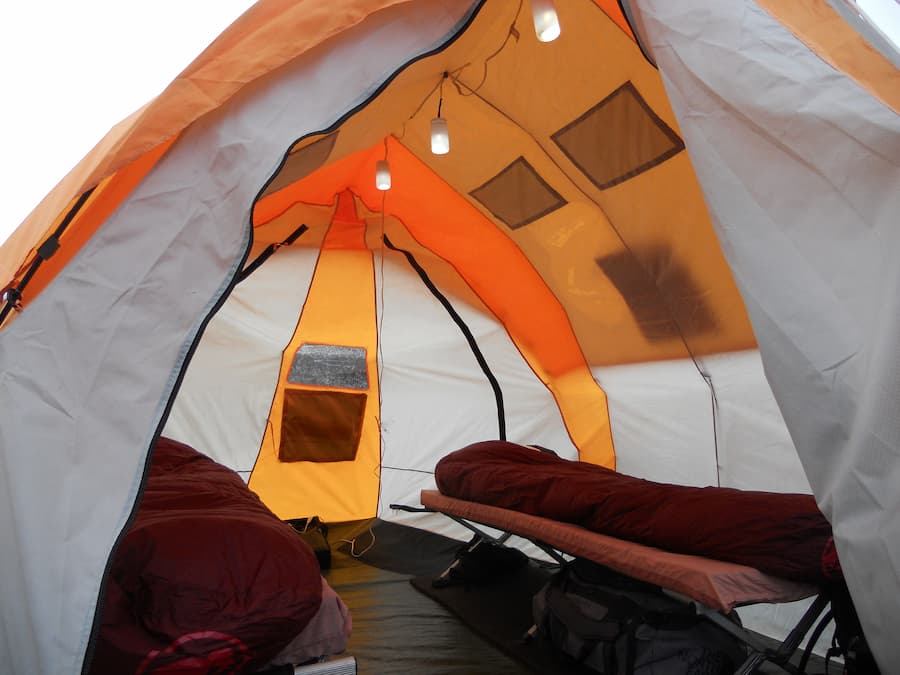 Hot Showers
You won't realise how much you will miss a hot shower until you have spent a day trekking up the mountain. Our hot showers are set up in a spacious rectangular-framed tent with a 15-liter solar shower bag perched on top. A shower mat, bath towels and plenty of clothes hooks are included.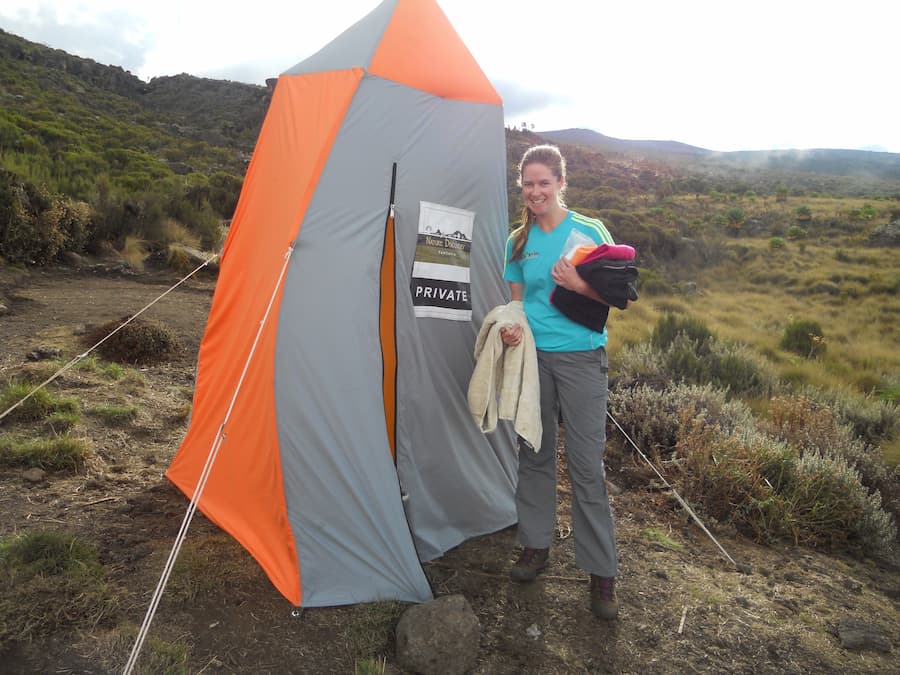 Dining Tent Heater
Defrost fingers and toes for a maximum of 3 hours every evening while tucking into a deliciously prepared meal. Our propane space heaters will warm the dining tent before and during evening meals.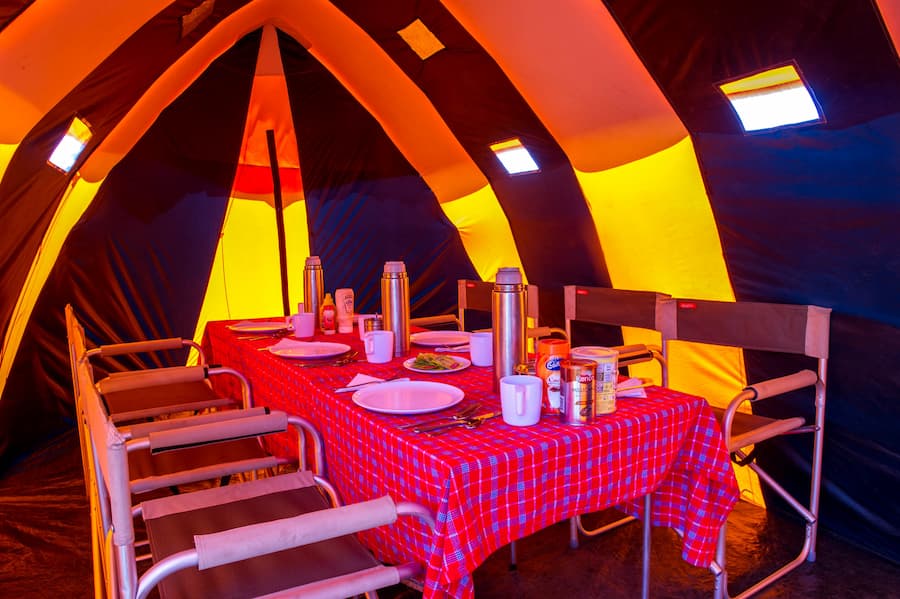 Heated Lounge Tent
Socialise at the end of your day's climb in our heated lounge tent. Complete with solar lights, inflatable furniture and a large table for card games!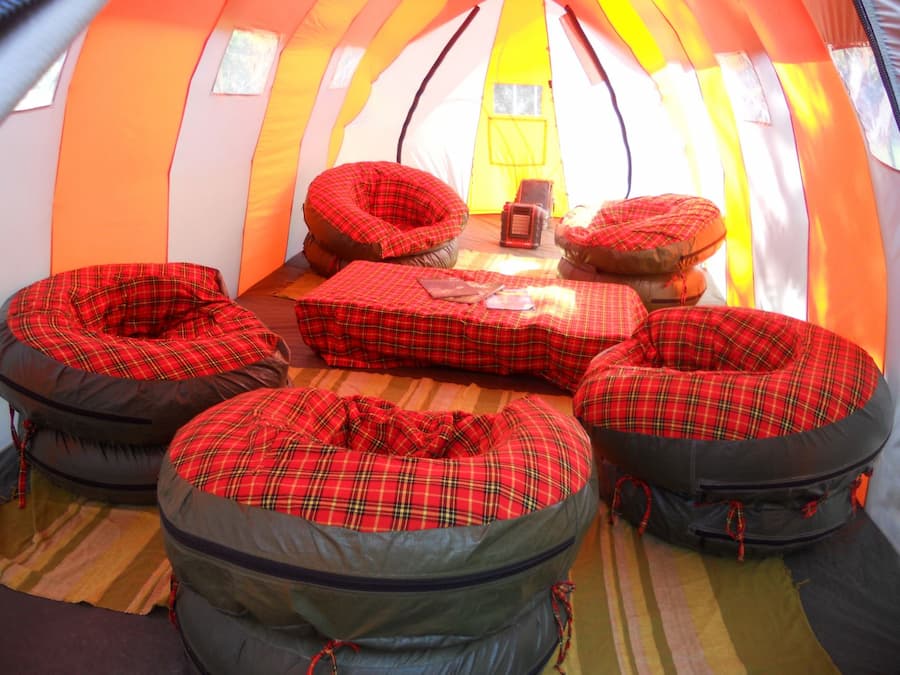 Solar Charging Kit
Ensure your devices are fully charged with our solar charging kit, which includes a solar panel, 12V DC/7 AH /20-hour battery and USB sockets for charging up to two US devices simultaneously while in camp. This is perfect for cell phones, satellite phones, iPods, tablets and other small devices.
Personal Porters
Our happy, highly trained porters carry trekkers' gear from camp to camp, however, personal porters are dedicated solely to you. They carry your daypack all the way up the mountain, and all the way down.
But they do so much more than just carry your daypack, they lift your spirits, enrich your experience and are there for you. They also increase your chance of summit success, because with less gear weighing you down, your body will take your farther with less effort.
Trust us, they will become your newest best friend!
Book Your Kilimanjaro Trek Today!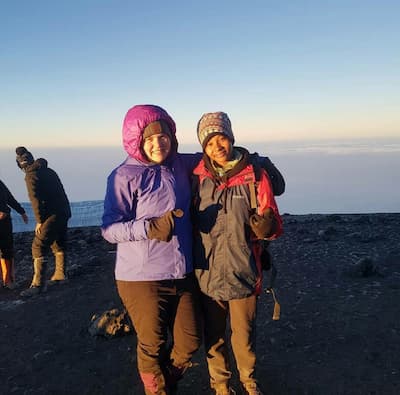 With over 30 years of experience, the Nature Discovery team know how to ensure a once-in-a-lifetime experience. Contact us to help you plan your Kilimanjaro trek.
Booking is essential and our tours are popular, so contact us now to avoid disappointment.