"The best a man (or woman) can get," is how travel writer and award-winning Trailblazer author Henry Stedman describes us in the latest edition of Kilimanjaro – The Trekking Guide to Africa's Highest Mountain.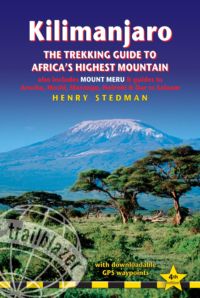 Stedman has been recommending Nature Discovery since 2001 when the first edition of Kilimanjaro – The Trekking Guide to Africa's Highest Mountain was published. The fifth edition continues to recommend Nature Discovery.
Stedman's bestselling Trailblazer guidebook is an excellent resource for anyone who's contemplating climbing or hiking Mount Kilimanjaro. As well as including the less popular but equally rewarding Mount Meru, it also has information on Nairobi, Dar Es Salaam, Arusha, Moshi And Marangu. Stedman's personal website Climb Mount Kilimanjaro is also an excellent source for Kilimanjaro travel advice and tips.
Here's an overview of why Stedman recommends Nature Discovery with the full details below.
What makes Nature Discovery the Best Kilimanjaro Tour Company according to Henry Stedman:
Upmarket Guide Company;
High spec treks;
Superior safety standards;
Excellent food;
Flexible and able to offer added extras;
Diverse trekking options;
Tailor-made treks and group treks available;
Ethical porter treatment as a KPAP member;
Excellent value for money for the ultimate trekking experience;
Budget trekking options also available.
What Henry Stedman says about us in Kilimanjaro – The Trekking Guide to Africa's Highest Mountain
Here's a direct quote from the latest edition describing Nature Discovery:
An Upmarket company, founded and still partly managed by Brits that's been in operation for a quarter of a century now.

Working closely with the large safari operator Thomson, this lot are ahead of the pack when it comes to offering high-spec treks.

Their safety record and procedures are certainly amongst the best, with WFR-trained guides and a hyperbaric chamber/Gamow bag accompanying every trek, as well as a 'medical porter' who stays with the clients at all times.

Their menus, too, are carefully planned and the food can approach gourmet standards.

We really appreciate their optional 'add-ons', where for a supplement you can have your own lounge tent complete with inflatable furniture, coffee table and soft flooring, or a proper frame bed (with mattress), or hot showers, or solar-charging kits – or even wifi.

And we also really like the look of their Grand Traverse Tour, an eight-day odyssey that starts on the Shira Plateau and heads east towards Mawenzi Tarn before looping back to School Hut; encompassing the northern/western, eastern and southern sides of the mountain, there is no trek that takes in more of Kili than this one.

They are also KPAP partners, pay their staff very well (the only porters who are fully clad in Gore-Tex!) and are one of only three companies who employ a designated Porter Welfare Officer.

Of course, such a fine service doesn't come cheap – but, nor, refreshingly, is it outlandishly expensive at US$3,475 for their most popular, 'Superior' standard treks, though remember it's extra for pre- and post-trek accommodation and airport transfers or if you want any of the add-ons listed above.

Now also offer Lite and Hut versions of their treks.

Summary: It's hard to find fault with these people and if money is no object then Nature Discovery are, to coin a phrase, the best a man (or woman) can get.
Book Your 2023-2024 Trek with Nature Discovery Now
If you'd like to climb, hike or trek with the best Kilimanjaro tour company get in touch with us now by email or through our online contact form.