Spend a few minutes getting to know William Bwenje, our smiling mountain guide.
William is Tanzanian, of the Nguni tribe from Songea in southern Tanzania near the border of Mozambique. He was born in Dar es Salaam on 26 November 1977 and attended primary and secondary school in the city. In 1998 he moved to Arusha where he began working as a mountain porter.
A natural leader, William became a head guide in 2003 with another company, and in 2005 he joined us as an assistant guide. In 2012, William was promoted to head guide.
William is a gifted mountain guide. His immeasurable patience and physical strength, soft-spoken nature and kind manner help many of our climbers reach Kilimanjaro's summit.
We sat down with William last week for a friendly chat and to discover just how he keeps his guest's spirits up when climbing on the mountain.
Nature Discovery: How many times have you climbed Mount Kilimanjaro?
William Bwenje: As a porter I climbed about 40 times and now as a guide more than 250 times!
ND: What is your favourite route up Kilimanjaro?
WB: My favourite route is Lemosho. It is the most beautiful route on Kilimanjaro because of the panoramic landscape views on various sides of the mountain. It has the most scenic views and a high summit success rate.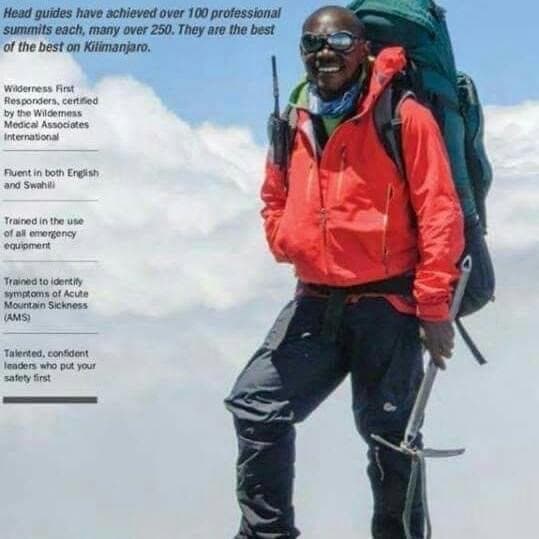 ND: What is your favourite Kilimanjaro meal?
WB: As I prefer traditional Tanzanian food, when I get home after a trek, I usually tuck into ugali (maize meal) with fried fish.
ND: What is your favourite animal?
WB: My favourite animal is the eagle. It is a fearless hunter, is tenacious and has a fantastic focus on objects in the distance. It flies high with very little noise and nurtures its young.
ND: How do you stay fit during the quieter months?
WB: It is important to keep fit and during the quieter seasons I do physical workouts at least three times a week.
ND: What is your favourite Nature Discovery climbing experience?
WB: It was 2010, and we had a female guest from Canada, who was 68 years old. It took us about 3 hours to reach the crater camp via the western breach route when she refused to continue with the hike. She claimed that it was something she didn't expect and exclaimed, "put my backpack down and leave me to die, I am not going anywhere!" We let her sit down and we spent some time speaking words of encouragement.  Although it took us about 10 hours, we did manage to walk slowly with her until we reached the crater camp.
ND: What a great memory! How do you encourage climbers to push through the difficult parts of the trek?
WB: During the climb, there are certain methods I use to motivate guests so that they all reach the goal of summiting Kilimanjaro. Here are a few things I say for encouragement:
The body is a servant of the mind, so let's think positive! We need a positive mental attitude and we can do this!
Apart from being sick, there is no reason why we can't make it. We can do this just pole pole!
Every step counts, every step is progress towards the summit. Let's do it, just one step in front of the other.
ND: You are very popular with our guests and they regularly comment on the fact that you are always smiling. Why is that?
WB: In February 2022, I had a small group on a trip that consisted of one couple and their 29-year-old daughter, Shelby. She asked me to tell the truth if my head had a brain. That question amazed me, and I asked her why she thought that I didn't have a brain? Shelby replied, "We've been teasing one another and now we are on the way from the summit and you are still smiling. Don't you have a headache? Aren't you tired? How are you doing it?" She made me laugh and I smile every time I remember this.
ND: As head guide, how do you ensure that the team works well together?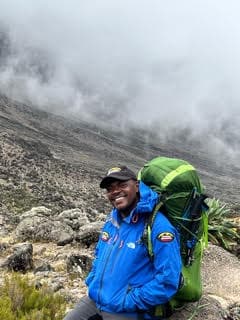 WB: When I am on the mountain, I like to be a leader, not a boss. I enjoy growing with my team and clients. I enjoy teaching and entertaining and keeping everyone I come in contact with alive! I do my best to promote teamwork at the workplace by making sure that we cooperate with each other. We solve problems together, respect individuality, and we have lots of fun times and laughter – all very important when working in a team.
ND: How important is preserving the environment on the mountain?
WB: Mountains are useful in our ecosystem because of its wide range of flora and fauna, water, clear air. They are also useful for leisure and for enjoying the beautiful landscape.
When you decide to summit mount Kilimanjaro with Nature Discovery, you can be assured that you will be in the best hands. Our mountain guides are our biggest assets. They are handpicked to ensure that we have the most capable and professional crews on the mountain.
The sense of camaraderie and friendships forged when our guest spend time on the mountain is priceless – these moments are forever shared by other climbers and our crew.