Getting ready for a Kilimanjaro expedition is not just about packing the right gear; it's also about preparing your body and mind for the epic journey ahead. Here are some essential tips to ensure you're in prime shape for this life-changing adventure:
1. Prioritize Your Health
Before setting foot in Tanzania, make sure you're in the best possible health. Anyone with a sore throat, a cold, or respiratory issues should avoid ascending above 3,000 meters (10,000 feet). Equally crucial is maintaining a healthy state of mind. Remember, climbing Kilimanjaro isn't a competition. There's no need to push yourself beyond your limits or pressure others to do so. The goal is to savour the experience and challenge yourself safely.
2. Consult Your Physician
Before starting or modifying your fitness routine, consult your doctor. While the ability to jog 2-3 miles in 30 minutes without excessive breathlessness is a good indicator of physical readiness, it's not a strict requirement. The key is to prepare your body for the rigors of the climb. Focus on aerobic, strength, and endurance exercises tailored to your abilities.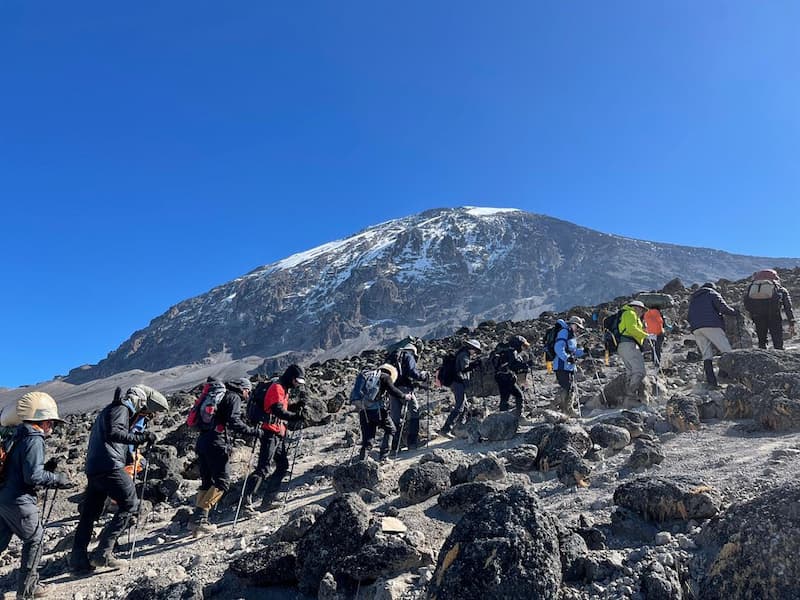 3. Train for the Trek
While there's no one-size-fits-all training regimen for Kilimanjaro, aim to mimic the conditions you'll face on the mountain. Hiking on slopes between 10 and 30 degrees is ideal. Work on strengthening your legs, but don't neglect other muscle groups, ligaments, and bones. If you're new to strength training, consult a fitness professional. Avoid over-exercising to prevent injuries.
4. Hike Frequently
Familiarize yourself with uneven terrain, balance, and varying exertion levels through day hikes. Wear the same boots you plan to use on Kilimanjaro and carry a full day pack, gradually increasing the weight. These small details will help you focus on the climb itself. Altitude training isn't necessary; steep mountain hikes will suffice.
5. Consider Running
If you're already a runner, modify your route to include hills and trails. However, if you're new to running, consult a doctor before starting. Running shouldn't be your sole training method, but it can complement your fitness routine.
6. Strength Training
Efficiency and core strength are crucial at high altitudes. Consult a professional if you're new to strength training. Focus on exercises like yoga, Pilates, lunges, squats, abdominal work, and push-ups. Form is more important than the weight, so prioritize proper technique to prevent injury.
7. Embrace Cross-Training
Diversify your workouts to achieve a well-rounded fitness level. Swap a running day for yoga, Pilates, cycling, or low-impact activities like swimming. Cross-training ensures your entire body is strong and minimizes the risk of injury.
8. Key Training Principles
Variation: Keep your workouts diverse to strengthen your entire body and maintain enthusiasm.
Recovery/Rest: Rest is crucial, especially in the two weeks before your journey. Arrive in Africa well-rested.
Consistency: Aim for at least 45 minutes of aerobic activity 4-5 times a week one month before your climb, then taper down.
9. Trim Down
Every extra pound feels like ten at Kilimanjaro's summit. Consider having a body-fat composition test and aim for a healthy range: around 19 per cent for men and 23 per cent for women.
Preparing for Kilimanjaro isn't just a physical endeavour; it's a holistic journey that requires a strong body and a focused mind. By following these training guidelines and prioritizing your health, you'll increase your chances of conquering the majestic peak and creating lasting memories.
Book Your 2023-2024 Kilimanjaro Trek with Nature Discovery
If you'd like to climb, hike or trek with the best Kilimanjaro tour company get in touch with us now by email or through our online contact form.