The Government of Tanzania is implementing a law banning the use of many types of plastic bags, effective on the 1st of June, 2019. If you are about to travel to Tanzania, please read the important message below: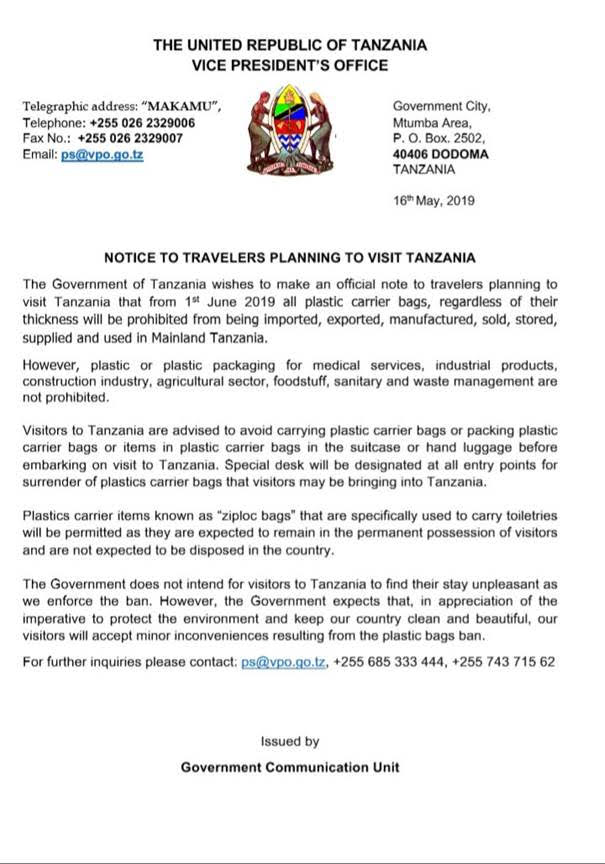 Nature Discovery lauds these efforts to combat plastic pollution, and we already have a program in place since last year to reduce our plastic footprint, as part of our commitment to practising sustainable tourism.
In our safari vehicles, we designed, fabricated and installed a holster for 20L refillable drinking water containers, and we have implemented a single-use-plastic ban for our company.  We also have been reducing our plastic use on Kilimanjaro, choosing products with less plastic packaging, and banning certain types of plastic containers which are not recyclable (for example; juice and milk packed in 'Tetrapaks'), and for the remaining plastic packaging, we are collecting (and cleaning and sorting) all our plastic waste generated, and recycling it with an Arusha-based organization called Dunia Designs.
Dunia is transforming that plastic trash into school-desks, termite-proof lumber boards and beams, furniture and even tourist curios. There will be no shortage of plastic waste anytime soon despite this ban on plastic bags. This is a perfect solution for turning plastic-waste into useful long-life products and setting a sustainable loop in motion.
With the help of our responsible partners Carbon Tanzania , Travelife, and Leave No Trace, we are employing a systematic broad-based approach to reducing energy consumption throughout our business. We offset our carbon footprint for all our business activities with Carbon Tanzania, and as merit-based partners with Travelife, have taken extraordinary measures to protect and improve the fragile environments which we work in. We encourage everyone coming to Tanzania to reduce the amount of single-use plastic trash they bring with them, to help us reduce plastic consumption overall.