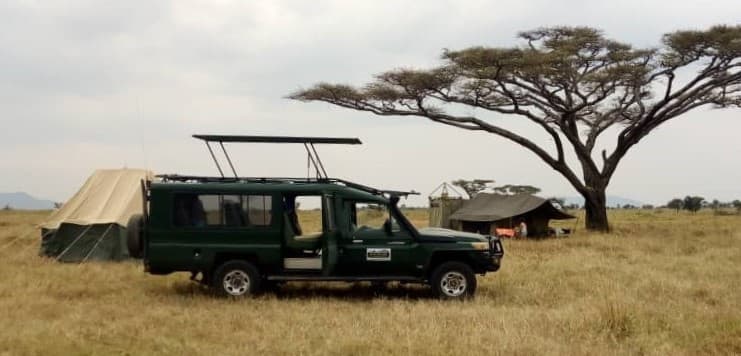 If you're going on safari in Tanzania, then you may have heard a few myths about the experience. With 30 years in the safari business, we know a thing or two… or a thousand!
We know the parks and wildlife areas intimately and have hosted guests from around the world – who usually ask the same questions. Here are our top 3 safari myths – busted:
1. There is a "Best" Time to go on Safari
The best time to go on safari is any time. Whether you're visiting Tanzania for the first time, understanding the difference between the safari high season vs low season is a great place to start.
For first-time safari goers, the best time to go to Tanzania is usually during the dry season, as wildlife is easier to track and spot. It is also the high season, which means that it is generally busier as many tourists come to see the great migration.
The low season includes both rainy seasons, transforming the dusty Serengeti into a lush, green wonderland. It is also quieter, with fewer tourists, meaning that you don't have to share the wildlife sightings with anyone else.
2. It's All About the Big Five
Tanzania is home to an exceptionally rich array of wildlife, and most guests dream of seeing the Big Five. On safari, most of the Big Five are easy to spot, however, seeing all of them takes skilled guides, a lot of patience and a little luck.
Seeing all five is never guaranteed, but there are so many other animals out there that bring joy to our guest's faces.
Large herds of hoofed animals—wildebeest, zebra, giraffe, buffalo, gazelle, eland and kudu—are found in most of the country's numerous game parks. Predators include hyenas, and the big cats—lions, leopards, and cheetahs. Crocodile and hippopotamus are common on riverbanks and lakeshores.
And let's not forget about the Little Five – the Elephant Shrew, Ant Lion, Rhinoceros Beetle, Buffalo Weaver and Leopard Tortoise. A bush walk is the best time to try to check these interesting creatures off your safari list.
3. Safaris are Rough and Uncomfortable
Whether you like the luxury of the quintessential safari lodges and permanent camps or prefer to get closer to the wildlife with one of our mobile camping safaris you will be happy to know that we do not skimp on comfort.
Our safari vehicles are rugged, yet comfortable and are kitted out with everything you need to enjoy your safari experience, like padded seats with armrests, charging stations for your camera batteries and mobile phones, a fridge for your drinks and snacks, a pop-up roof for the best game viewing and slide open windows.
"It's all a part of the experience." The parks are as natural and undisturbed as they can possibly be so the wildlife is disturbed as little as possible which is why there are no tarred roads so you get the authentic safari experience.
Book Your Trip
Contact Nature Discovery now to find out more about our safaris and treks.