The best times of year to climb Kilimanjaro for the weather (avoiding rain) are January to early March and July to mid-October. There's a long, dry winter and a green season with two rainy periods at each end. December, January, February and March are the warmest months, with clear mornings and evenings, and clouds building during the day that occlude the summit in the early afternoon hours. The predictable patterns of weather make it a good time to climb.
The main rainy season lasts from the beginning of April to early June. At this time, dense cloud formations massed over the mountain reduce visibility, and you can expect frequent snowstorms on the summit and heavy rains on the lower slopes.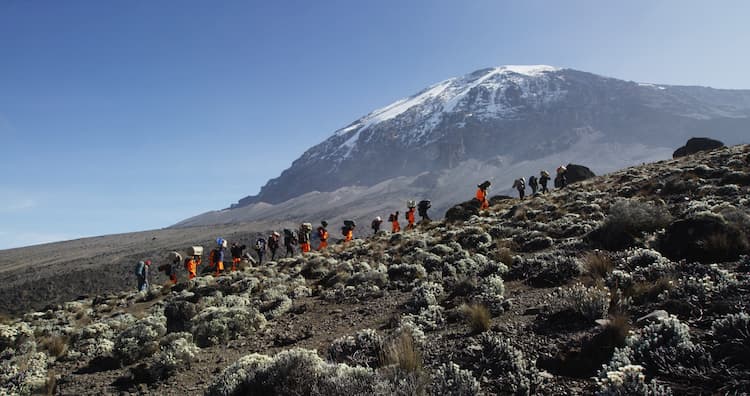 The longest and driest season runs from mid-June to mid-October. During this time it can be very cold at night. During Kilimanjaro's "winter," there is a persistent dripping belt of clouds girdling the whole mountain above the forests and the moorland contour, leaving the summit and a few other distant peaks poking through. Above the clouds, it is usually clear and dry, and this is one of the best times to plan the trek.
In late October, the clouds finally give way to rain, and until the middle of December, the mountain is often shrouded in heavy clouds, with persistent showers from base to summit.
The best months to climb Kilimanjaro are January, February, July, August and September.
Avoid climbing during the April-May heavy rain season, and November (the short rains) if you can. During these times, in order to stay out of the 'crowds', it's best to avoid the Machame Route, and on any route; avoid starting your climb on a Saturday or Sunday (the majority of groups start on these days). Regarding climbing on a full moon, we recommend arranging the summit attempt three to five days AFTER the full moon, for optimal moonlighting the summit trail during the night.
Book a Group Trek
No matter when you choose to climb, if want to have the best eco-trekking experience, book a Group Trek with Nature Discovery today!